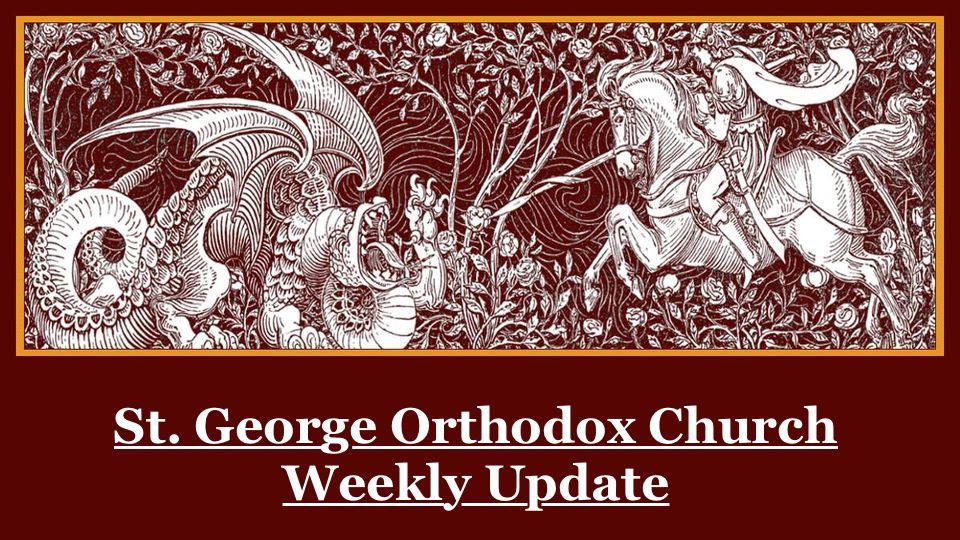 Schedule for June 5th-June 13th
Saturday, June 5th: Father Jeffrey serving morning Divine Liturgy in Lake Havasu, 5pm Great Vespers, confessions heard following
Sunday, June 6th: 8:30am Orthros, 9:30am Divine Liturgy
Wednesday, June 9th: 6pm Great Vespers for The Ascension
Thursday, June 10th: 8am Orthros and Divine Liturgy for The Ascension
Saturday, June 12th: 5pm Great Vespers
Sunday, June 13th: 8:30am Orthros, 9:30am Divine Liturgy
Commemorations This Week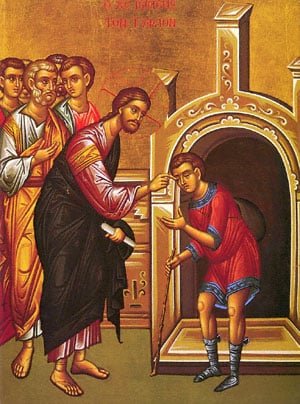 The icon of the Sunday of the Blind Man depicts the biblical story of Christ healing the man who was blind since birth. Our Lord is shown placing the clay on the eyes of the man. He is with his disciples who are questioning Christ about the source of the man's affliction. The blind man is shown with his hand outstretched toward Christ expressing his faith and willingness to receive healing and grace from the Son of God. Our Lord has in His hand a scroll, which directs us to His statements, "I am the light of the world," (John 9:5), and "The Spirit of the Lord is upon me, because he has anointed me to preach good news to the poor. He has sent me to proclaim release to the captives and recovering of sight to the blind, to set at liberty those who are oppressed," (Luke 4:18). This are clear statements of the Gospel of salvation that comes through Christ. The scroll may also represent the role of Christ as Judge as depicted in Matthew and Revelation, and also later in the same passage on the healing of the blind man (John 9:39), Jesus said, "For judgment I came into this world, that those who do not see may see, and that those who see may become blind."
Sunday of The Man Born Blind
The sixth Sunday of Holy Pascha is observed by the Orthodox Church as the Sunday of the Blind Man. The day commemorates the miracle of Christ healing the man who was blind since birth. The biblical story of this event is found in the Gospel of Saint John 9:1-41.
The Lord Jesus was coming from the Temple on the Sabbath, when, while walking in the way, He saw the blind man mentioned in today's Gospel. This man had been born thus from his mother's womb, that is, he had been born without eyes (see Saint John Chrysostom, Homily LVI on John; Saint Irenaeus, Against Heresies, Book V:15; and the Second Exorcism of Saint Basil the Great). When the disciples saw this, they asked their Teacher, "Who did sin, this man, or his parents, that he was born blind?" They asked this because when the Lord had healed the paralytic at the Sheep's Pool, He had told him, "Sin no more, lest a worse thing come unto thee" (John 5:14); so they wondered, if sickness was caused by sin, what sin could have been the cause of his being born without eyes. But the Lord answered that this was for the glory of God. Then the God-man spat on the ground and made clay with the spittle. He anointed the eyes of the blind man and said to him, "Go, wash in the Pool of Siloam." Siloam (which means "sent") was a well-known spring in Jerusalem used by the inhabitants for its waters, which flowed to the eastern side of the city and collected in a large pool called "the Pool of Siloam."
When our Lord Jesus Christ, then, came at midday to this city, which is also called Sychar (John 4:5), He was wearied from the journey and the heat. He sat down at this well. After a little while the Samaritan woman mentioned in today's Gospel passage came to draw water. As she conversed at some length with the Lord and heard from Him secret things concerning herself, she believed in Him; through her many other Samaritans also believed.
Therefore, the Savior sent the blind man to this pool that he might wash his eyes, which had been anointed with the clay-not that the pool's water had such power, but that the faith and obedience of the one sent might be made manifest, and that the miracle might become more remarkable and known to all, and leave no room for doubt. Thus, the blind man believed in Jesus' words, obeyed His command, went and washed himself, and returned, no longer blind, but having eyes and seeing. This was the greatest miracle that our Lord had yet worked; as the man healed of his blindness himself testified, "Since time began, never was it heard that any man opened the eyes of one that was born blind," although the Lord had already healed the blind eyes of many. Because he now had eyes, some even doubted that he was the same person (John 9:8-9); and it was still lively in their remembrance when Christ came to the tomb of Lazarus, for they said, "Could not this man, who opened the eyes of the blind man, have caused that even this man should not have died?" Saint John Chrysostom gives a thorough and brilliant exposition of our Lord's meeting with the woman of Samaria, the healing of the paralytic, and the miracle of the blind man in his commentaries on the Gospel of Saint John.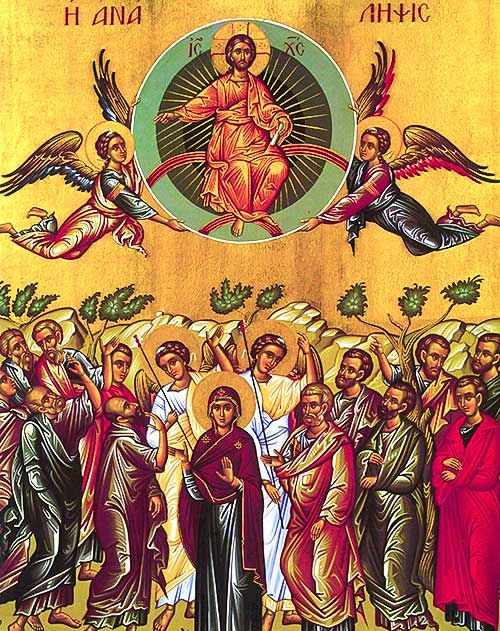 The icon of The Ascension of Our Lord is a joyous icon. It is painted with bright colors. Christ is shown ascending in His glory in a mandorla A mandorla is a design which is almond-shaped or round. Inside the mandorla is the figure of a holy person. Christ blesses the assembly with His right hand. In His left is a scroll. The scroll is a symbol of teaching. This icon shows that the Lord in heaven is the source of blessing. In addition, Jesus is the source of knowledge. The icon reminds us that Christ continues to be the source of the teaching and message of the Church, blessing and guiding those to whom He has entrusted his work.
The Theotokos occupies a very special place in this icon. She is in the center of the icon, immediately below the ascending Christ. The gesture of her hands is gesture of prayer. She is clearly outlined by the whiteness of the garments of the angels. The Theotokos is depicted in a very calm pose. This is quite different from the appearance of the Disciples. They are moving about, talking to one another and looking and pointing towards heaven. The entire group, the Theotokos and the disciples represent the Church.
The Ascension of Our Lord
On Thursday, June 10th, we celebrate the Feast of the Ascension of our Lord God and Savior Jesus Christ. Ascension is celebrated each year on the fortieth day after the Great and Holy Feast of Pascha (Easter). Since the date of Pascha changes each year, the date of the Feast of the Ascension changes. The Feast is always celebrated on a Thursday.
The Feast itself commemorates when, on the fortieth day after His Resurrection, Jesus led His disciples to the Mount of Olives, and after blessing them and asking them to wait for the fulfillment of the promise of the Holy Spirit, He ascended into heaven.
The story of the Ascension of our Lord, celebrated as one of the Twelve Great Feasts of the Church, is found in the book of the Acts of the Apostles 1:3-11. It is also mentioned in the Gospels of Mark (16:19) and Luke (24:50-53). The moment of the Ascension is told in one sentence: "He was lifted up before their eyes in a cloud which took Him from their sight" (Acts 1:9).
Christ made His last appearance on earth, forty days after His Resurrection from the dead. The Acts of the Apostles states that the disciples were in Jerusalem. Jesus appeared before them and commanded them not to depart from Jerusalem, but to wait for the "Promise of the Father". He stated, "You shall be baptized with the Holy Spirit not many days from now" (Acts 1:5).
After Jesus gave these instructions, He led the disciples to the Mount of Olives. Here, He commissioned them to be His witnesses "in Jerusalem, and in all Judea and Samaria, and to the end of the earth" (Acts 1:8). It is also at this time that the disciples were directed by Christ to "go and make disciples of all nations, baptizing them in the name of the Father and the Son and the Holy Spirit" (Matthew 28:19). Jesus also told them that He would be with them always, "even to the end of the world" (Matthew 28:20).
As the disciples watched, Jesus lifted up His hands, blessed them, and then was taken up out of their sight (Luke 24:51; Acts 1:9). Two angels appeared to them and asked them why they were gazing into heaven. Then one of the angels said, "This same Jesus, which is taken up from you into heaven, shall so come in like manner as you have seen Him going into heaven" (Acts 1:11).
Epistle and Gospel Readings for Sunday, June 6th
The Acts of The Apostles16:16-34
IN THOSE DAYS, as we apostles were going to the place of prayer, we were met by a slave girl who had a spirit of divination and brought her owners much gain by soothsaying. She followed Paul and us, crying, "These men are servants of the Most High God, who proclaim to you the way of salvation." And this she did for many days. But Paul was annoyed, and turned and said to the spirit, "I charge you in the name of Jesus Christ to come out of her." And it came out that very hour. But when her owners saw that their hope of gain was gone, they seized Paul and Silas and dragged them into the market place before the rulers; and when they had brought them to the magistrates they said, "These men are Jews and they are disturbing our city. They advocate customs which it is not lawful for us Romans to accept or practice." The crowd joined in attacking them; and the magistrates tore the garments off them and gave orders to beat them with rods. And when they had inflicted many blows upon them, they threw them into prison, charging the jailer to keep them safely. Having received this charge, he put them into the inner prison and fastened their feet in the stocks. But about midnight Paul and Silas were praying and singing hymns to God, and the prisoners were listening to them, and suddenly there was a great earthquake, so that the foundations of the prison were shaken; and immediately all the doors were opened and every one's fetters were unfastened. When the jailer woke and saw that the prison doors were open, he drew his sword and was about to kill himself, supposing that the prisoners had escaped. But Paul cried with a loud voice, "Do not harm yourself, for we are all here." And he called for lights and rushed in, and trembling with fear he fell down before Paul and Silas, and brought them out and said, "Men, what must I do to be saved?" And they said, "Believe in the Lord Jesus, and you will be saved, you and your household." And they spoke the word of the Lord to him and to all that were in his house. And he took them the same hour of the night, and washed their wounds, and he was baptized at once, with all his family. Then he brought them up into his house, and set food before them; and he rejoiced with all his household that he had believed in God.

The Gospel According John 9:1-38
At that time, as Jesus passed by, he saw a man blind from his birth. And his disciples asked him, "Rabbi, who sinned, this man or his parents, that he was born blind?" Jesus answered, "It was not that this man sinned, or his parents, but that the works of God might be made manifest in him. We must work the works of him who sent me, while it is day; night comes, when no one can work. As long as I am in the world, I am the light of the world." As he said this, he spat on the ground and made clay of the spittle and anointed the man's eyes with the clay, saying to him, "Go, wash in the pool of Siloam" (which means Sent). So he went and washed and came back seeing. The neighbors and those who had seen him before as a beggar, said, "Is not this the man who used to sit and beg?" Some said, "It is he"; others said, "No, but he is like him." He said, "I am the man." They said to him, "Then how were your eyes opened?" He answered, "The man called Jesus made clay and anointed my eyes and said to me, 'Go to Siloam and wash'; so I went and washed and received my sight." They said to him, "Where is he?" He said, "I do not know."
They brought to the Pharisees the man who had formerly been blind. Now it was a sabbath day when Jesus made the clay and opened his eyes. The Pharisees again asked him how he had received his sight. And he said to them, "He put clay on my eyes and I washed, and I see." Some of the Pharisees said, "This man is not from God, for he does not keep the sabbath." But others said, "How can a man who is a sinner do such signs?" There was a division among them. So they again said to the blind man, "What do you say about him, since he has opened your eyes?" He said, "He is a prophet."
The Jews did not believe that he had been blind and had received his sight, until they called the parents of the man who had received his sight, and asked them, "Is this your son, who you say was born blind? How then does he now see?" His parents answered, "We know that this is our son, and that he was born blind; but how he now sees we do not know, nor do we know who opened his eyes. Ask him; he is of age, he will speak for himself." His parents said this because they feared the Jews, for the Jews had already agreed that if anyone should confess him to be Christ he was to be put out of the synagogue. Therefore his parents said, "He is of age, ask him."
So for the second time they called the man who had been blind, and said to him, "Give God the praise; we know that this man is a sinner." He answered, "Whether he is a sinner, I do not know; one thing I know, that though I was blind, now I see." They said to him, "What did he do to you? How did he open your eyes?" He answered them, "I have told you already and you would not listen. Why do you want to hear it again? Do you too want to become his disciples?" And they reviled him, saying, "You are his disciple, but we are disciples of Moses. We know that God has spoken to Moses, but as for this man, we do not know where he comes from." The man answered, "Why, this is a marvel! You do not know where he comes from, and yet he opened my eyes. We know that God does not listen to sinners, but if anyone is a worshiper of God and does his will, God listens to him. Never since the world began has it been heard that anyone opened the eyes of a man born blind. If this man were not from God, he could do nothing." They answered him, "You were born in utter sin, and would you teach us?" And they cast him out.
Jesus heard that they had cast him out, and having found him he said, "Do you believe in the Son of man?" He answered, "And who is he, sir, that I may believe in him?" Jesus said to him, "You have seen him, and it is he who speaks to you." He said, "Lord, I believe"; and he worshiped him.

Click below to access recent homilies from Father Jeffrey
Community News Prescott Area Shelter Services, or PASS, is a local women & children's shelter. St. George parishioners provide a meal once a month for the residents there. If you would like to further support them, please consider donating needed items on their "Wish List". To find out more, check out their website, prescottshelters.org, and click on "Ways To Help". Contact Laura Scott for more information.
Metropolis & Archdiocese News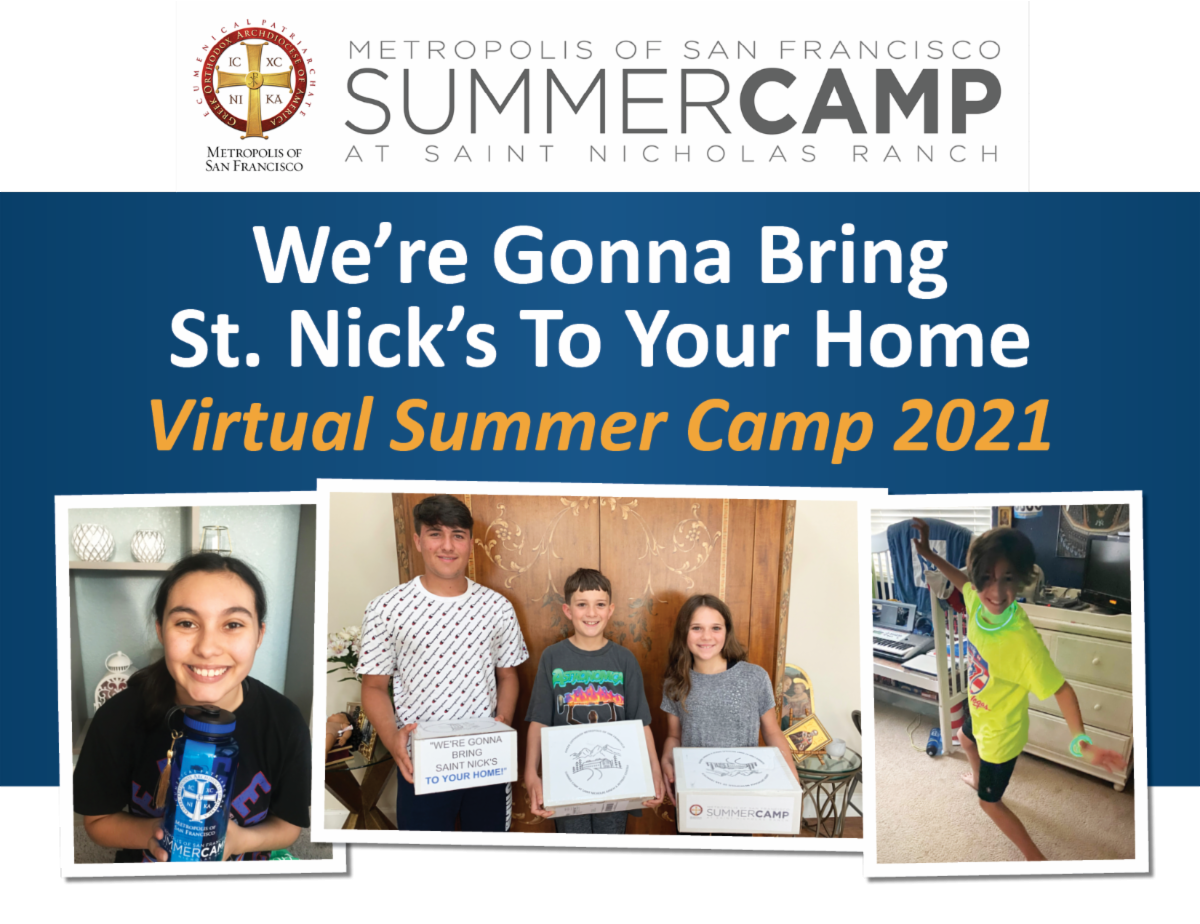 After careful review and consideration of the ongoing COVID-19 restrictions, especially in the County of Fresno, CA, the difficult but necessary decision was made by the Saint Nicholas Ranch and Retreat Center Board of Directors that it was in the best interest of the safety and well-being of the youth of the Metropolis, that Summer Camp 2021 will again be offered as a virtual program.
"We're Gonna Bring St. Nick's To Your Home"
Virtual camp is not the same as in-person, but the Summer Camp Management team, under the leadership of Johanna Duterte Carter, Director of Youth and Young Adult Ministries, have created another interactive, immersive and exciting program. A similar program was offered in the summer of 2020 to rave reviews from campers and parents. All youth ages 8 – 18 (including recent high school graduates) can register now for this two week program which will be held on Mondays, Wednesdays and Fridays from July 19 – 30, 2021. Activities will include daily cabin talks, prayer services, arts and crafts, cooking classes, evening activities and more! Participants will receive a camper box in the mail with supplies, camp gear and a few surprises. Be sure to register soon so you don't miss out on this great opportunity for summer fun!Click here for more details

The Christian Education Ministry of the Greek Orthodox Metropolis of San Francisco, together with Saint Paul Greek Orthodox Church in Irvine, CA, are offering "A Very Short Course in Orthodox Theology". This six-week series will be held on Wednesday evenings beginning on May 12 and continue through June 16, 2021 from 7:00 – 9:00 p.m. PDT. Dr. Paraskevè (Eve) Tibbs, chair of the Metropolis Christian Education Ministry will be leading this course which is open to all interested adults. Each class session topic is independent, thus you do not need to commit to attending each session – just attend when you are able.
The fast moving format is a combination of lecture, visual presentation, discussion, and occasional video, and there is no homework! Supplemental reading will be provided to all participants at no cost through the sharing of PDF documents. Watch this short promotional video to learn more about this course.
Register today for this great educational program – you won't want to miss it!
For more information, please email: religioused@sanfran.goarch.org.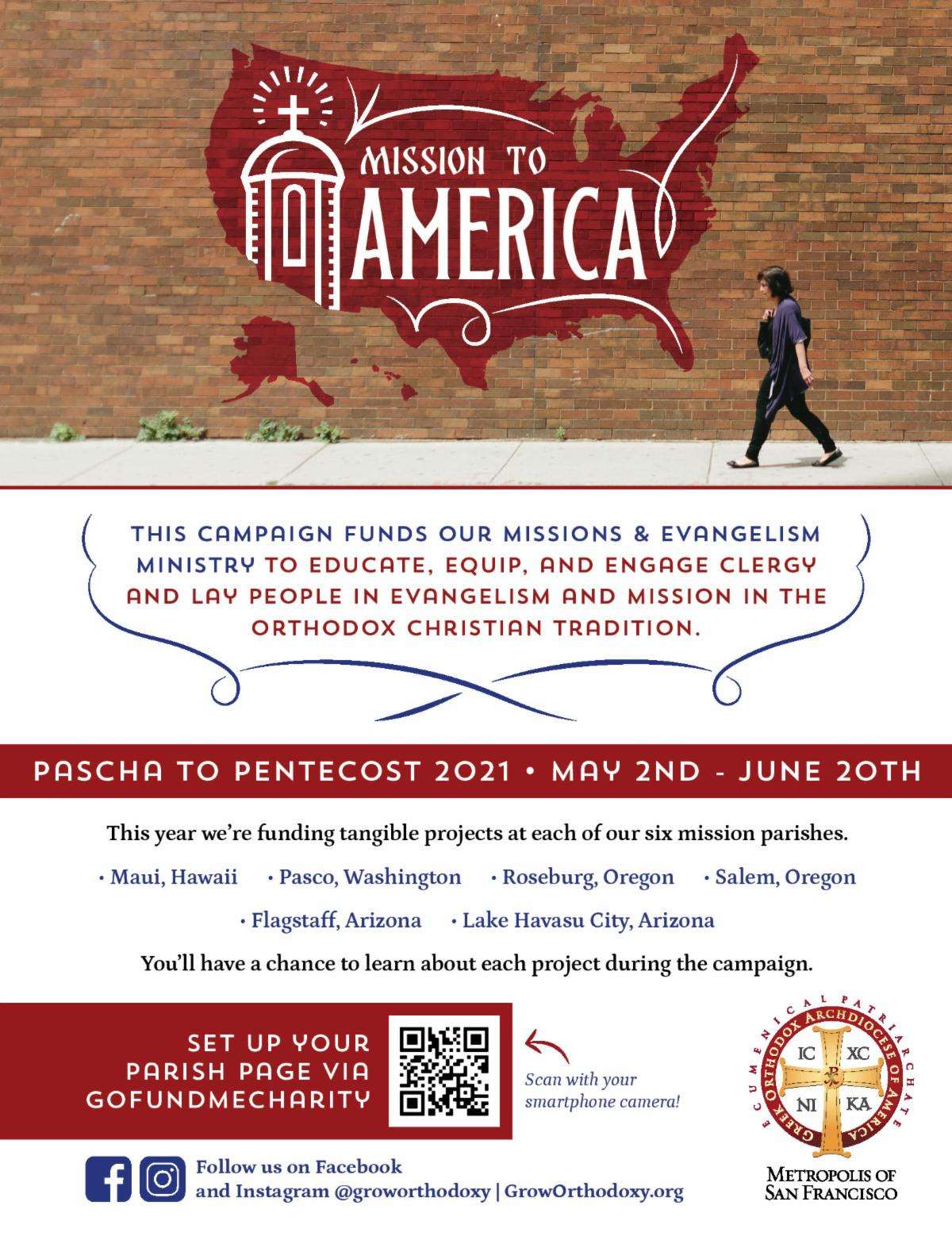 From the Assembly Of Bishops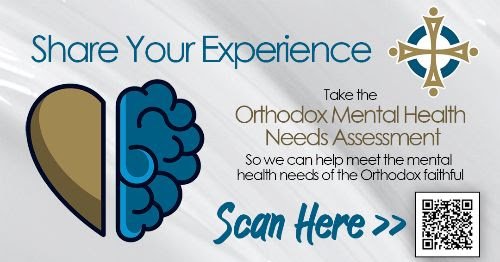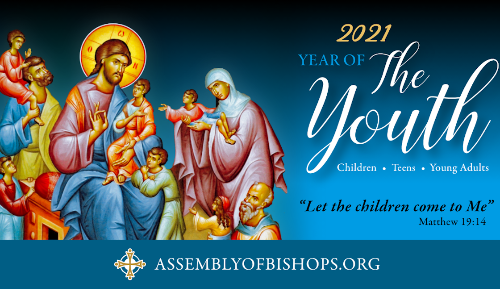 The Year of the Youth celebrates youth's presence and potential within the Church by celebrating and enhancing their God-given talents. The presence of Youth, as full members of the Body of Christ, is essential to the life of our communities. The Youth are our present and future. Our hope stems from a faith that is not only lived on a daily basis but is passed on from generation to generation, ensuring continuity in witnessing Christ's love in the world. "He established a testimony in Jacob, and appointed a law in Israel, which He commanded our fathers to teach to their children; that the next generation might know them, the children yet unborn, and arise and tell them to their children, so that they should set their hope in God, and not forget the works of God but keep His commandments…" (Psalm 78:5-7).
Six Townhalls will be hosted virtually throughout the year, each in a different geographic region of the United States, connecting our youth and hierarchs. Townhalls will provide youth with opportunities: 1) to better know their hierarchs, and 2) to dialogue with their hierarchs about their spiritual lives. Below is a list of regions, dates, and times. Please register for the regional townhall for the region with which you identify. Each session is limited to 60 participants, and registration is on a first come, first serve basis. Registrants must be "children or teens" (18 years old or under).