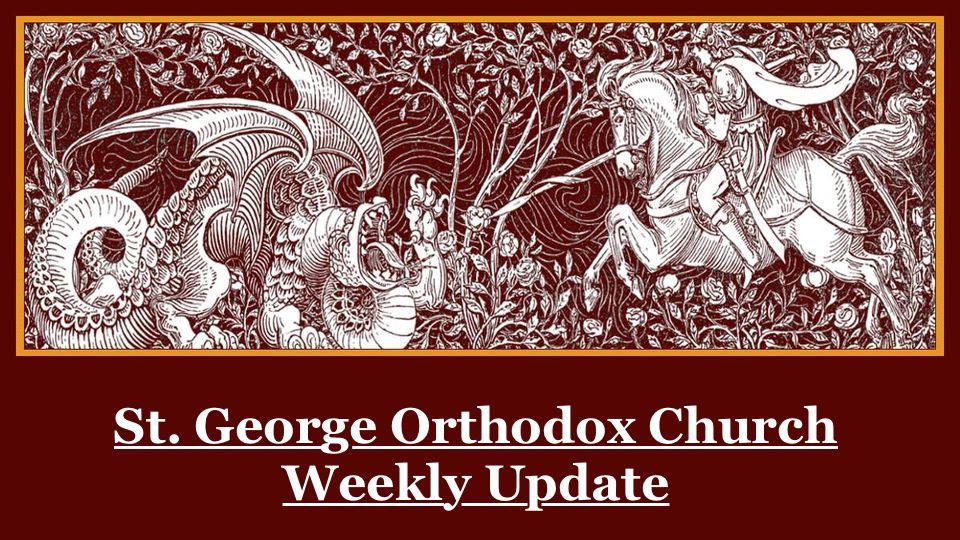 Schedule for January 24th January 31st
Sunday January 24th 830am Orthros 930am Divine Liturgy
Wednesday January 27th 6pm Vespers
Saturday January 30th 5pm Great Vespers and confessions heard following
Sunday January31st 830am Orthros 930am Divine Liturgy
Commemoration of SaintsSunday (24th) we commemorate our righteous Mother Xenia of St. Petersburg Xenia was born about the year 1730. She was married to a Colonel named Andrew; when she was twenty-six years old, her husband died suddenly, having been drinking with his friends. Left a childless widow, Xenia gave away all that she had, and vanished from Saint Petersburg for eight years; it is believed that she spent this time in a hermitage, learning the spiritual life. When she returned to Saint Petersburg, she wore her husband's military clothing, and would answer only to the name Andrew, that is, the name of her late husband. She took up the life of a homeless wanderer, and was abused by many as insane; she bore this with great patience, crucifying the carnal mind through the mockery she endured, and praying for her husband's soul. She was given great gifts of prayer and prophecy, and often foretold things to come; in 1796 she foretold the death of Empress Catherine II. Having lived forty-five years after her husband's death, she reposed in peace at the age of seventy-one, about the year 1800. Her grave became such a source of miracles, and so many came to take soil from it as a blessing, that it was often necessary to replace the soil; when a stone slab was placed over her grave, this too disappeared over time, piece by piece. Saint Xenia is especially invoked for help in finding employment, lodging, or a spouse.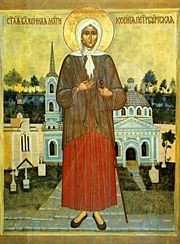 Thursday (28th) we commemorate St. Ephraim the Syrian Saint Ephraim was born in Nisibis of Mesopotamia some time about the year 306, and in his youth was the disciple of Saint James, Bishop of Nisibis, one of the 318 Fathers at the First Ecumenical Council. Ephraim lived in Nisibis, practicing a severe ascetical life and increasing in holiness, until 363, the year in which Julian the Apostate was slain in his war against the Persians, and his successor Jovian surrendered Nisibis to them. Ephraim then made his dwelling in Edessa, where he found many heresies to do battle with. He waged an especial war against Bardaisan; this gnostic had written many hymns propagating his errors, which by their sweet melodies became popular and enticed souls away from the truth. Saint Ephraim, having received from God a singular gift of eloquence, turned Bardaisan's own weapon against him, and wrote a multitude of hymns to be chanted by choirs of women, which set forth the true doctrines, refuted heretical error, and praised the contests of the Martyrs.Of the multitude of sermons, commentaries, and hymns that Saint Ephraim wrote, many were translated into Greek in his own lifetime. Sozomen says that Ephraim "Surpassed the most approved writers of Greece," observing that the Greek writings, when translated into other tongues, lose most of their original beauty, but Ephraim's works "are no less admired when read in Greek than when read in Syriac" (Eccl. Hist., Book 111, 16). Saint Ephraim was ordained deacon, some say by Saint Basil the Great, whom Sozomen said "was a great admirer of Ephraim, and was astonished at his erudition." Saint Ephraim was the first to make the poetic expression of hymnody and song a vehicle of Orthodox theological teachings, constituting it an integral part of the Church's worship; he may rightly be called the first and greatest hymnographer of the Church, who set the pattern for these who followed him, especially Saint Romanos the Melodist. Because of this he is called the "Harp of the Holy Spirit." Jerome says that his writings were read in some churches after the reading of the Scriptures, and adds that once he read a Greek translation of one of Ephraim's works, "and recognized, even in translation, the incisive power of his lofty genius" (De vir. ill., ch. CXV).Shortly before the end of his life, a famine broke out in Edessa, and Saint Ephraim left his cell to rebuke the rich for not sharing their goods with the poor. The rich answered that they knew no one to whom they could entrust their goods. Ephraim asked them, "What do you think of me?" When they confessed their reverence for him, he offered to distribute their alms, to which they agreed. He himself cared with his own hands for many of the sick from the famine, and so crowned his life with mercy and love for neighbor. Saint Ephraim reposed in peace, according to some in the year 373, according to others, 379.
Saints Xenia and Ephraim, Pray for us!Sunday January 24th Epistle and Gospel readings.
St. Paul's First Letter to Timothy 1:15-17Timothy, my son, the saying is sure and worthy of full acceptance, that Christ Jesus came into the world to save sinners. And I am the foremost of sinners; but I received mercy for this reason, that in me, as the foremost, Jesus Christ might display his perfect patience for an example to those who were to believe in him for eternal life. To the King of ages, immortal, invisible, the only God, be honor and glory to the ages of ages. Amen.
The Gosple According to Luke 18:35-43At that time, as Jesus drew near to Jericho, a blind man was sitting by the roadside begging; and hearing a multitude going by, he inquired what this meant. They told him, "Jesus of Nazareth is passing by." And he cried, "Jesus, Son of David, have mercy on me!" And those who were in front rebuked him, telling him to be silent; but he cried out all the more, "Son of David, have mercy on me!" And Jesus stopped, and commanded him to be brought to him; and when he came near, he asked him, "What do you want me to do for you?" He said, "Lord, let me receive my sight." And Jesus said to him, "Receive your sight; your faith has made you well." And immediately he received his sight and followed him, glorifying God; and all the people, when they saw it, gave praise to God.