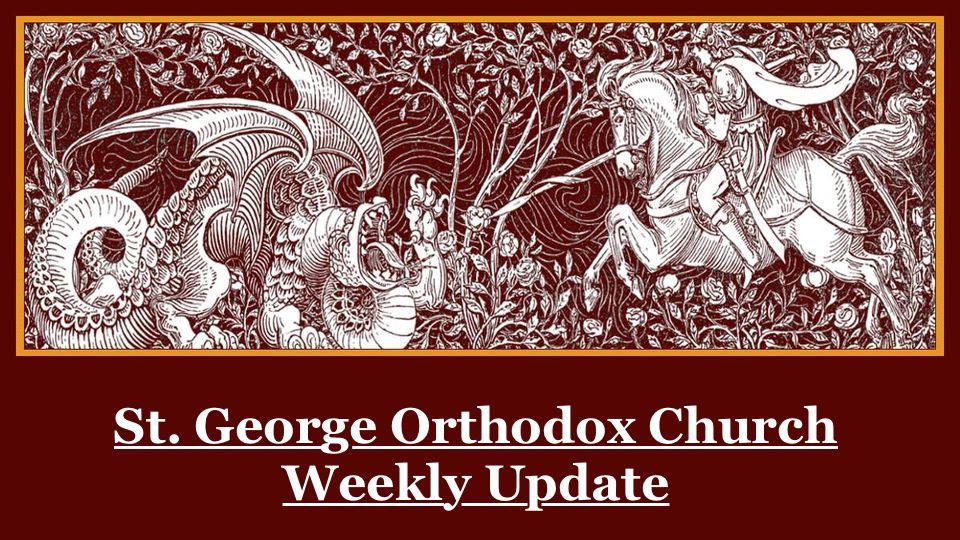 Schedule for January 10th – January 17th
Sunday January 10th 830am Orthros 930am Divine Liturgy
Wednesday January 13th 630pm Akathist of the Inexhaustible Cup
Saturday January 16th 5pm Great Vespers and confessions heard following
Sunday January 17th 830am Orthros 930am Divine Liturgy
Commemoration of SaintsSunday (10th) we commemorate Saint Gregory, the younger brother of Basil the Great, illustrious in speech and a zealot for the Orthodox Faith, was born in 331. His brother Basil was encouraged by their elder sister Macrina to prefer the service of God to a secular career (see July 19); Saint Gregory was moved in a similar way by his godly mother Emily, who, when Gregory was still a young man, implored him to attend a service in honor of the holy Forty Martyrs at her retreat at Annesi on the River Iris. Saint Gregory came at his mother's bidding, but being wearied with the journey, and feeling little zeal, he fell asleep during the service. The Forty Martyrs then appeared to him in a dream, threatening him and reproaching him for his slothfulness. After this he repented and became very diligent in the service of God.Gregory became bishop in 372, and because of his Orthodoxy he was exiled in 374 by Valens, who was of one mind with the Arians. After the death of Valens in 378, Gregory was recalled to his throne by the Emperor Gratian. He attended the Local Council of Antioch, which sent him to visit the churches of Arabia and Palestine, which had been defiled and ravaged by Arianism. He attended the Second Ecumenical Council, which was assembled in Constantinople in 381. Having lived some sixty years and left behind many remarkable writings, he reposed about the year 395. The acts of the Seventh Ecumenical Council call him 'Father of Fathers."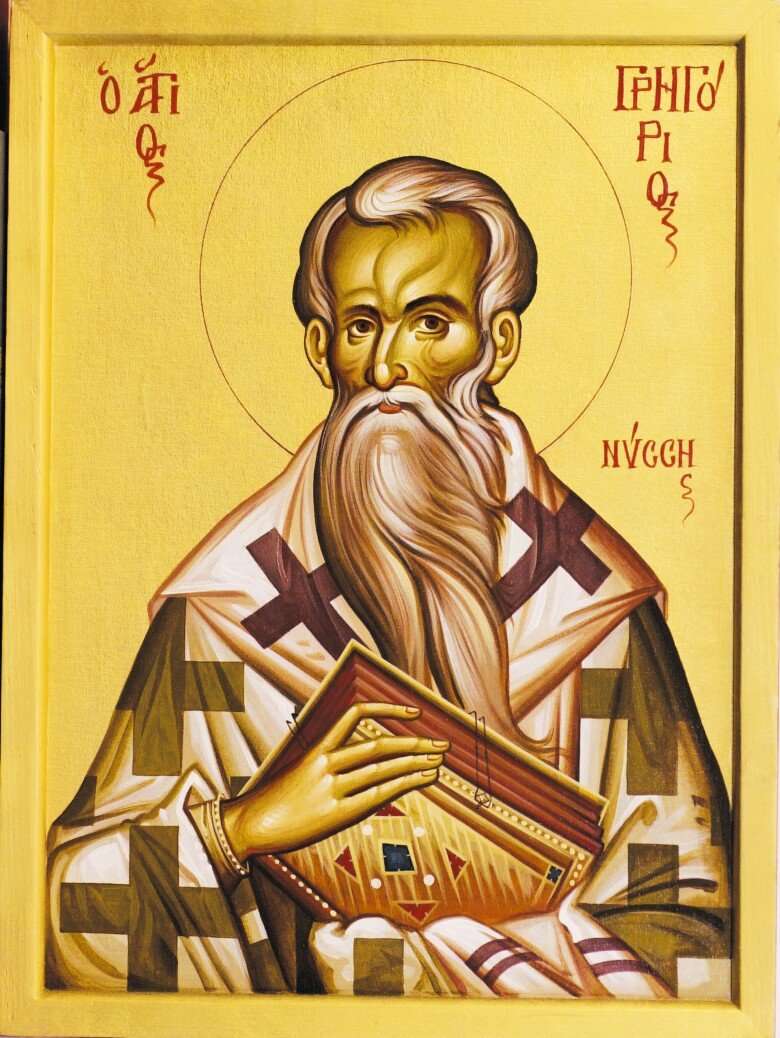 Wednesday (13th) The holy Hierarch Hilary was born of pagan parents in Gaul, and was trained in philosophy and rhetoric. At a time when paganism was still strong in Gaul, Saint Hilary understood the falsehood of polytheism, and became a Christian, and a great defender of his new Faith. About the year 350 he was ordained Bishop of Poitiers, when Arles and Milan were in the hands of the Arians and the Arian Constantius was sole Emperor. Like his contemporary Saint Athanasius, Saint Hilary's episcopate was one long struggle against the Arians. As bishop of Poitiers, Saint Hilary foresaw the future greatness of Martin (see Nov. 12), and attached him to himself. In 355, when required to agree to the condemnation of Saint Athanasius passed by the Council of Milan, Hilary wrote an epistle to Constantius convicting the wrongs done by the Arians and requesting, among other things, the restoration of the Orthodox bishops, including Athanasius. For this, Hilary was banished to Asia Minor, where he wrote his greatest work, On the Trinity. Saint Hilary returned to his see in 360, where Saint Martin sought him out again. It was this time that Saint Hilary blessed Martin to found a monastery near Poitiers, where Martin remained until being consecrated Bishop of Tours in 371. In his last years, Saint Hilary, strove for the deposition of Auxentius, the Arian Bishop of Milan, but by affecting an Orthodox confession Auxentius retained his see. Saint Hilary reposed in peace about the year 368. Auxentius died in 374 and was succeeded by Saint Ambrose, who continued Saint Hilary's battle against Arianism.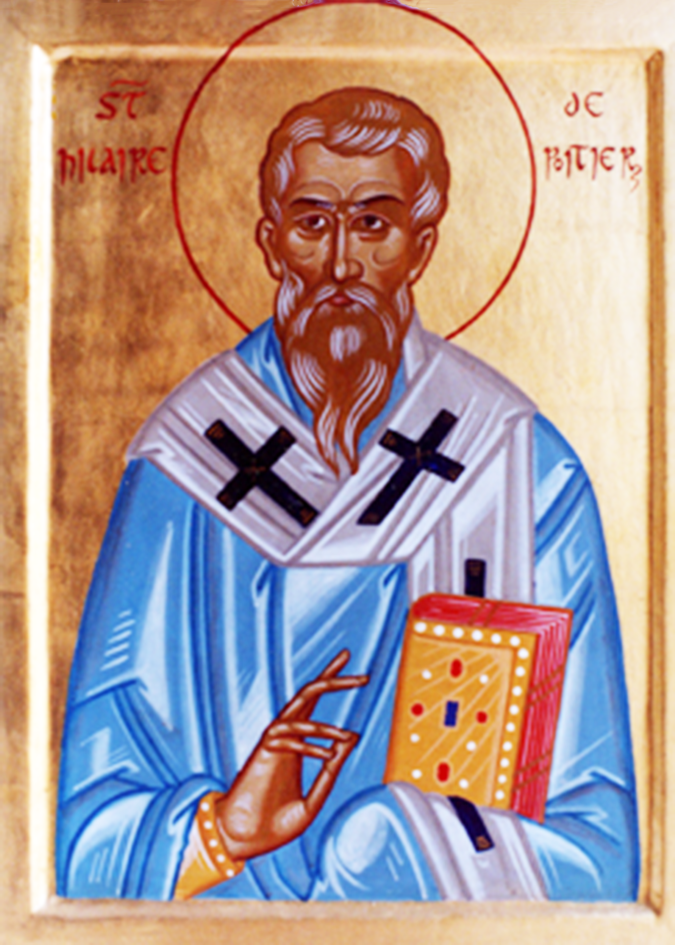 Saints Gregory and Hilary, Pray for us!Sunday January 10th Epistle and Gospel readings.
St. Paul's Letter to the Ephesians 4:7-13BRETHREN, grace was given to each of us according to the measure of Christ's gift. Therefore it is said, "When he ascended on high he led a host of captives, and he gave gifts to men." (in saying, "He ascended," what does it mean but that he had also descended into the lower parts of the earth? He who descended is he who also ascended far above all the heavens, that he might fill all things.) And his gifts were that some should be apostles, some prophets, some evangelists, some pastors and teachers, to equip the saints for the work of ministry, for building up the body of Christ, until we all attain to the unity of the faith and of the knowledge of the Son of God, to mature manhood, to the measure of the stature of the fullness of Christ.
The Gosple According to Matthew 4:12-17At that time, when Jesus heard that John had been arrested, he withdrew into Galilee; and leaving Nazareth he went and dwelt in Capernaum by the sea, in the territory of Zebulun and Naphtali, that what was spoken by the prophet Isaiah might be fulfilled: "The land of Zebulun and the land of Naphtali, toward the sea, across the Jordan, Galilee of the Gentiles, the people who sat in darkness have seen a great light, and for those who sat in the region and shadow of death light has dawned." From that time Jesus began to preach, saying, "Repent, for the kingdom of heaven is at hand."