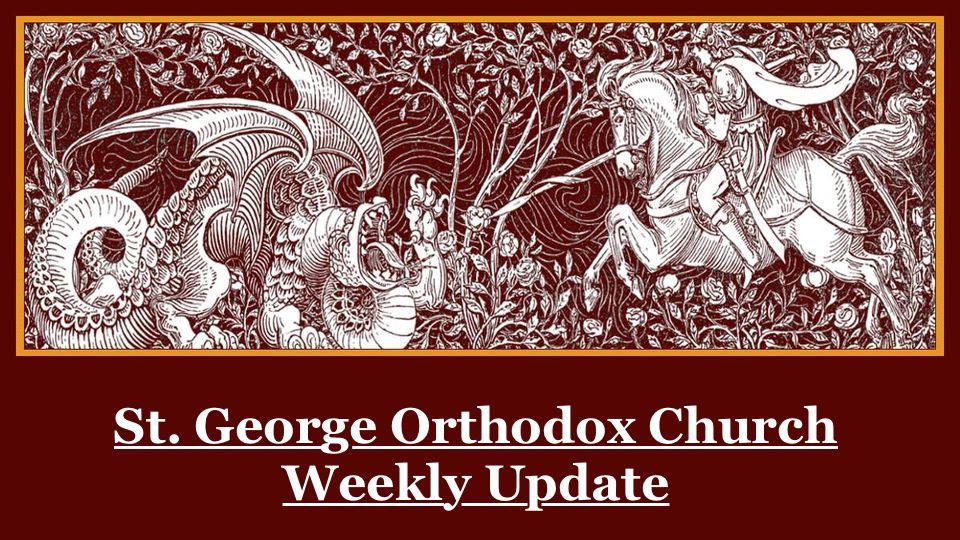 Schedule for December 6th – December 13th
Sunday December 6th 830am Orthros 930am Divine Liturgy
Tuesday December 8th 530pm Vesperal Liturgy Conception of the Theotokos
Saturday December 12th 10am Funeral for Nicholas Prepchuck
Saturday December 12th 5pm Great Vespers, confessions heard following.
Sunday December 13th 830am Orthros 930am Divine Liturgy
Commemoration of SaintsSunday (6th) we commemorate Saint Nicholas the Wonderworker, Archbishop of Myra This Saint lived during the reign of Saint Constantine the Great, and reposed in 330, As a young man, he desired to espouse the solitary life. He made a pilgrimage to the holy city Jerusalem, where he found a place to withdraw to devote himself to prayer. It was made known to him, however, that this was not the will of God for him, but that he should return to his homeland to be a cause of salvation for many. He returned to Myra, and was ordained bishop. He became known for his abundant mercy, providing for the poor and needy, and delivering those who had been unjustly accused. No less was he known for his zeal for the truth. He was present at the First Ecumenical Council of the 318 Fathers at Nicaea in 325; upon hearing the blasphemies that Arius brazenly uttered against the Son of God, Saint Nicholas struck him on the face. Since the canons of the Church forbid the clergy to strike any man at all, his fellow bishops were in perplexity what disciplinary action was to be taken against this hierarch whom all revered. In the night our Lord Jesus Christ and our Lady Theotokos appeared to certain of the bishops, informing them that no action was to be taken against him, since he had acted not out of passion, but extreme love and piety. The Dismissal Hymn for holy hierarchs, The truth of things hath revealed thee to thy flock … was written originally for Saint Nicholas. He is the patron of all travellers, and of sea-farers in particular; he is one of the best known and best loved Saints of all time.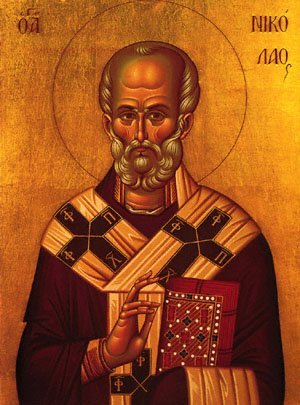 Wednesday (9th) we commemorate the Conception by St. Anna of the Most Holy Theotokos According to the ancient tradition of the Church, since Saint Anna, the Ancestor of God, was barren, she and her husband Joachim remained without children until old age. Therefore, sorrowing over their childlessness, they besought God with a promise that, if He were to grant them the fruit of the womb, they would offer their offspring to Him as a gift. And God, hearkening to their supplication, informed them through an Angel concerning the birth of the Virgin. And thus, through God's promise, Anna conceived according to the laws of nature, and was deemed worthy to become the mother of the Mother of our Lord (see also Sept. 8).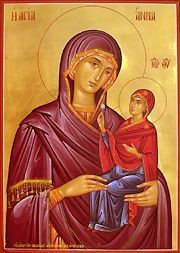 Saint Nicholas the Wonderworker pray for us! Sunday December 6th Epistle and Gospel readings.
St. Paul's Letter to the Ephesians 13:17-21Brethren, obey your leaders and submit to them; for they are keeping watch over your souls, as men who will have to give account. Let them do this joyfully, and not sadly, for that would be of no advantage to you. Pray for us, for we are sure that we have a clear conscience, desiring to act honorably in all things. I urge you the more earnestly to do this in order that I may be restored to you the sooner. Now may the God of peace who brought again from the dead our Lord Jesus, the great Shepherd of the sheep, by the blood of the eternal covenant, equip you with everything good that you may do His will, working in you that which is pleasing in His sight, through Jesus Christ; to whom be glory for ever and ever. Amen.
The Gosple According to Luke 13:10-17At that time, Jesus was teaching in one of the synagogues on the sabbath. And there was a woman who had a spirit of infirmity for eighteen years; she was bent over and could not fully straighten herself. And when Jesus saw her, he called her and said to her, "Woman, you are freed from your infirmity." And he laid his hands upon her, and immediately she was made straight, and she praised God. But the ruler of the synagogue, indignant because Jesus had healed on the sabbath, said to the people, "There are six days on which work ought to be done; come on those days and be healed, and not on the sabbath day." Then the Lord answered him, "You hypocrites! Does not each of you on the sabbath untie his ox or his donkey from the manger, and lead it away to water it? And ought not this woman, a daughter of Abraham whom Satan bound for eighteen years, be loosed from this bond on the sabbath day?" As he said this, all his adversaries were put to shame; and all the people rejoiced at all the glorious things that were done by him.