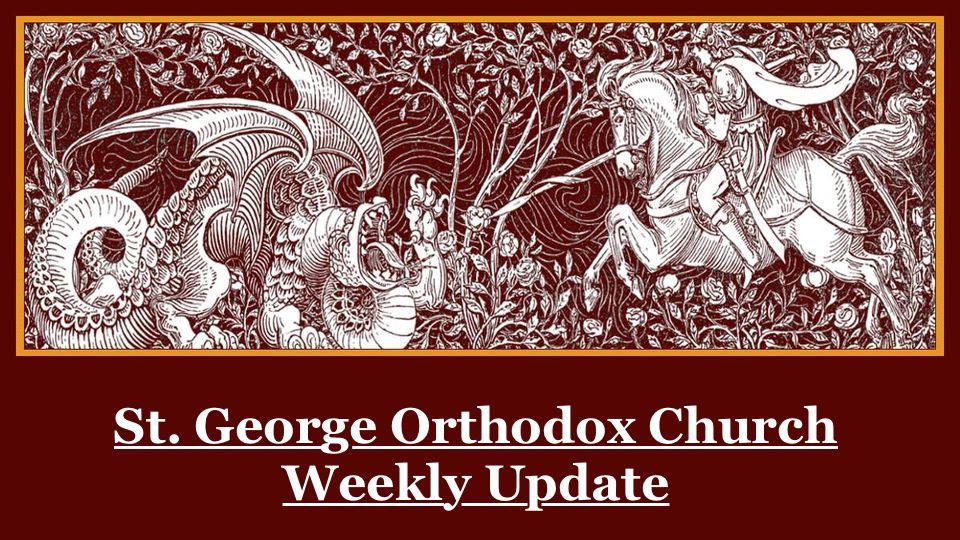 Schedule for November 29th – Dec 6th
Sunday November 29th 830am Orthros 930am Divine Liturgy
Tuesday December 1st 630pm Great Vespers
Wednesday December 2nd 830am Divine Liturgy for St Porphyrios
Thursday December 3rd 3pm Church Deep Cleaning
Saturday December 5th 930am Baptism of Ellie Katherine Kruse
Saturday December 5th 5pm Great Vespers, confessions heard following.
Commemoration of SaintsSunday (29th) we commemorate the Paramonus, Philumenus, and their 370 Companion Martyrs in Bythnia Saint Paramonus contested for piety's sake during the reign of Decius, in the year 250. A ruler named Aquilinus, seeking relief from a bodily malady, visited a certain therapeutic hot spring. He brought with him captive Christians from Nicomedia, and commanded them to offer sacrifice in the temple of Isis. When they refused, he had them all slaughtered, to the number of 370. Saint Paramonus, beholding their murder, boldly cried out against such an act of ungodliness. When Aquilinus heard this, he sent men to take the Saint. Some smote him with spears, others pierced his tongue and body with sharp reeds, until he died.Saint Philumenus' contest in martyrdom took place during the reign of Aurelian, in the year 270. Coming from Lycaonia, he was conveying a load of wheat into Galatia when he was denounced as a Christian to Felix, Governor of Ancyra. Nails were driven into his hands, feet, and head, and he was commanded to run. While running in the road, he fell and gave up his holy soul into the hands of God.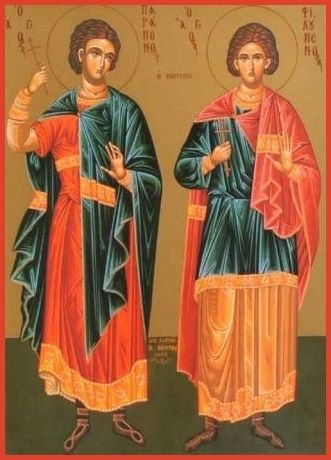 Wednesday (2nd) we commemorate Saint Porphyrios of Kavsokalyvia Saint Porphyrios (Bairaktaris) was born in 1907 with the name Evangelos in Evoia, Greece, in the small village of Agios Ioannis (Saint John). As a child he tended to the sheep in the hills, and it is there that he first read the life of Saint John the Hut-Dweller (Commemorated January 15th) which planted the desire of monasticism in his heart. The spark lit by Saint John was fanned when at the age of seven he overheard a conversation about the divine beauty of the Holy Mountain. Eventually he stowed away on a boat to Thessalonica, hoping from there to reach Mount Athos.
On the evening after his arrival, a group of monks gathered at the harbor to take the boat to Mount Athos. One of them noticed the young Porphyrios and asked him where he was going. Porphyrios told the monk that he was going to the Holy Mountain, but lied about the reason as to why. The monk, seeing through this, told Porphyrios to tell any inquirers that he was his nephew and that his mother had passed away, for otherwise he would not be allowed on the mountain since he was still a child.The monk, whose name was Panteleimon, became his spiritual father and brought him to Kavsokalyvia, a small skete where Panteleimon lived with his brother, the Priest Ioannikos, as fellow monastics. The young Porphyrios loved to carry out the virtue of obedience to his elders, at times being tested by them without even knowing it. When he was fourteen, his elder asked Porphyrios what he was planning to do with his life. The young man told him that he wished to stay on the Mountain. Two or three years later, Porphyrios was tonsured with the name Nikitas.
Once, being obedient to one of his elders against the wishes of the other, Porphyrios went out on a rainy day to collect snails. After hours of filling his sack, and burdened by the wind and cold, Porphyrios found himself suddenly caught in a rockslide and was buried up to his knees. Crying out to the Theotokos he was miraculously delivered, but having suffered badly he developed pleurisy and had to leave Mount Athos to seek medical treatment. The elder who told him to collect the snails profusely apologized, and personally saw Porphyrios off of Mount Athos, kissing him on the forehead in tears.
Porphyrios returned to the village of Agios Ioannis in Evoia where he reunited with his family. He stayed at the monastery of Saint Haralambos, which was near the village Avlonari, until he recovered. His good reputation as a faithful and obedient monk quickly spread and thus caught the attention of the Bishop Fostinis of Kymi. He began to visit Porphyrios frequently, and with the aid of Archbishop Porphyrios III of Sinai (from whom Porphyrios was given his final name), ordained the young monk a deacon and then a priest. Two years later he was made a confessor and would at times hear confessions for multiple days at a time without sleep or food.
His next major ministry was serving as the Chaplain at the Polyclinic Hospital in Athens for roughly 33 years (1940-1973). It was through the well-known Professor of Canon Law, Amilkas Alivizatos, that Porphyrios was assigned to the Church of Saint Gerasimos which was associated with the hospital. During this time he helped many patients spiritually by acting as their father confessor. In addition to his hospital duties, he helped to renew the Church of Saint Nicholas in Kallisia, often having recourse to it during the night to pray by himself or with family.
However, Porphyrios had still been unable to fulfill another dream he shared with his family: founding a monastery. After years of searching, he bought some land upon the top of a hill in Milesi where he later founded The Holy Monastery of the Transfiguration. He remained there for many years before returning to his old cell on Mount Athos where he spent his last years. He departed this life on December 2nd, 1991. Porphyrios was declared a saint by the Ecumenical Patriarchate on November 27th, 2013.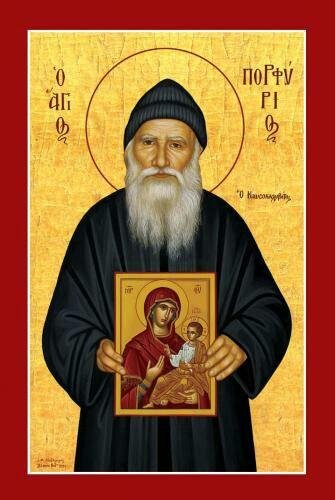 Holy Martyrs Paramonus and Philumenus, and Saint Porphyrios pray for us!Sunday November 22nd Epistle and Gospel readings.
St. Paul's Letter to the Ephesians 24:1-7Brethren, I, a prisoner for the Lord, beg you to lead a life worthy of the calling to which you have been called, with all lowliness and meekness, with patience, forbearing one another in love, eager to maintain the unity of the Spirit in the bond of peace. There is one body and one Spirit, just as you were called to the one hope that belongs to your call, one Lord, one faith, one baptism, one God and Father of us all, who is above all and through all and in all. But grace was given to each of us according to the measure of Christ's gift.
The Gosple According to Luke 18:18-27At that time, a ruler came to Jesus and asked him, "Good Teacher, what shall I do to inherit eternal life?" And Jesus said to him, "Why do you call me good? No one is good but God alone. You know the commandments: 'Do not commit adultery, Do not kill, Do not steal, Do not bear false witness, Honor your father and mother.' " And he said, "All these I have observed from my youth." And when Jesus heard it, he said to him, "One thing you still lack. Sell all that you have and distribute it to the poor, and you will have treasure in heaven; and come, follow me." But when he heard this he became sad, for he was very rich. Jesus looking at him said, "How hard it is for those who have riches to enter the kingdom of God! For it is easier for a camel to go through the eye of a needle than for a rich man to enter the kingdom of God." Those who heard it said, "Then who can be saved?" But he said, "What is impossible with men is possible with God."