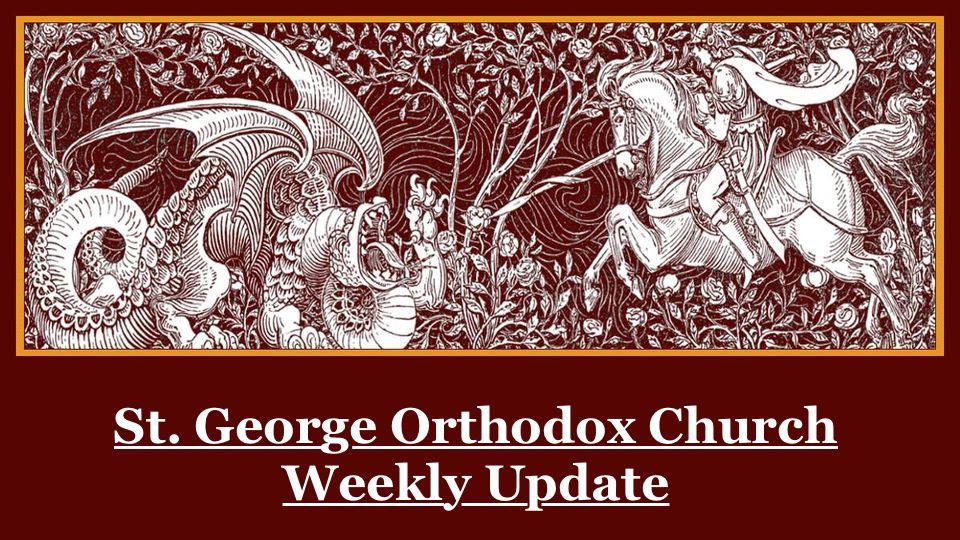 Schedule for February 7th – February 14th
Sunday February 7th 830am Orthros 930am Divine Liturgy
Wednesday February 10th 630pm Vespers
Saturday February 13th 5pm Great Vespers and confessions heard following
Sunday February 14th 830am Orthros 930am Divine Liturgy
Commemoration of SaintsSunday (7th) we commemorate St Luke of Mount Stirion Saint Luke was the descendant of a family from Aegina which, because of the frequent invasions of the Saracens, left Aegina and dwelt in Phocis, where the Saint was born in 896. From his earliest childhood Luke ate neither flesh, nor cheese, nor eggs, but gave himself over with his whole soul to hardship and fasting for the love of heavenly blessings, often giving away his clothing to the poor, for which his father punished him. After his father's death he secretly left home to become a monk, but the Lord, inclining to the fervent prayers of his mother, made him known, and he returned to her for a time to care for her. For many years he lived as a hermit, moving from place to place; he spent the last part of his life on Mount Stirion at Phocis, where there is a city named Stiris. The grace of God that was in him made him a wonder-worker, and his tomb in the monastery of Hosios Loukas, famous for its mosaics, became a source of healings and place of pilgrimage for the faithful. According to some he reposed in the year 946; according to others, in 953.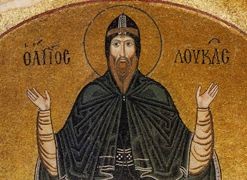 Wednesday (10th) we commemorate Hieromartyr Haralambos This Saint was a priest of the Christians in Magnesia, the foremost city of Thessaly, in the diocese having the same name. He contested during the reign of Alexander Severus (222-235), when Lucian was Proconsul of Magnesia. At the time of his martyrdom the Saint was 103 years of age.St. Haralambos is commemorated on February 10th, with the exception when this date falls on the Saturday of the Souls preceding Lent or on Clean Monday (the first day of Lent), in which case the feast is celebrated on February 9th.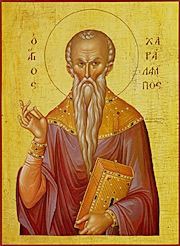 Holy Hieromartyr Haralambos and St. Luke pray for us!Sunday February 7th Epistle and Gospel readings.
St. Paul's First Second Letter to the Corinthians 6:1-10
Brethren, working together with him, we entreat you not to accept the grace of God in vain. For he says, "At the acceptable time I have listened to you, and helped you on the day of salvation." Behold, now is the acceptable time; behold, now is the day of salvation. We put no obstacle in any one's way, so that no fault may be found with our ministry, but as servants of God we commend ourselves in every way: through great endurance, in afflictions, hardships, calamities, beatings, imprisonments, tumults, labors, watching, hunger; by purity, knowledge, forbearance, kindness, the Holy Spirit, genuine love, truthful speech, and the power of God; with the weapons of righteousness for the right hand and for the left; in honor and dishonor, in ill repute and good repute. We are treated as impostors, and yet are true; as unknown, and yet well known; as dying, and behold we live; as punished, and yet not killed; as sorrowful, yet always rejoicing; as poor, yet making many rich; as having nothing, and yet possessing everything.

The Gospel According to Matthew 25:14-30
The Lord said this parable: "A man going on a journey called his servants and entrusted to them his property; to one he gave five talents, to another two, to another one, to each according to his ability. Then he went away. He who had received the five talents went at once and traded with them; and he made five talents more. So also, he who had the two talents made two talents more. But he who had received the one talent went and dug in the ground and hid his master's money. Now after a long time the master of those servants came and settled accounts with them. And he who had received the five talents came forward, bringing five talents more, saying, 'Master, you delivered to me five talents; here I have made five talents more.' His master said to him, 'Well done, good and faithful servant; you have been faithful over a little, I will set you over much; enter into the joy of your master.' And he also who had the two talents came forward, saying, 'Master, you delivered to me two talents; here I have made two talents more.' His master said to him, 'Well done, good and faithful servant; you have been faithful over a little, I will set you over much; enter into the joy of your master.' He also who had received the one talent came forward, saying, 'Master, I knew you to be a hard man, reaping where you did not sow, and gathering where you did not winnow; so I was afraid, and I went and hid your talent in the ground. Here you have what is yours.' But his master answered him, 'You wicked and slothful servant! You knew that I reap where I have not sowed, and gather where I have not winnowed? Then you ought to have invested my money with the bankers, and at my coming I should have received what was my own with interest. So take the talent from him, and give it to him who has the ten talents. For to every one who has will more be given, and he will have abundance; but from him who has not, even what he has will be taken away. And cast the worthless servant into the outer darkness; there men will weep and gnash their teeth." As he said these things he cried out: "He who has ears to hear, let him hear!"