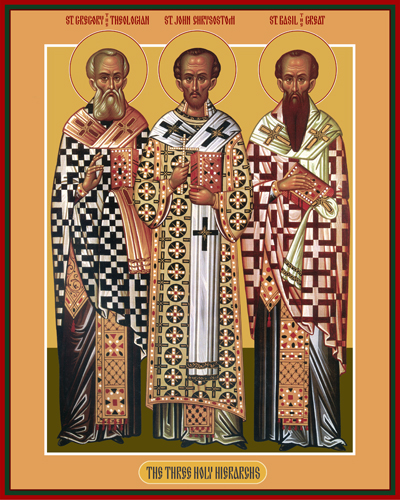 The three most great luminaries of the Three-Sun Divinity have illumined all of the world with the rays of doctrines divine and true; they are the sweetly-flowing rivers of wisdom, who with godly knowledge have watered all creation in clear and mighty streams: The great and sacred Basil, and the Theologian, wise Gregory, together with the renowned John, the famed Chrysostom of golden speech. Let us all who love their divinely-wise words come together, honoring them with hymns; for ceaselessly they offer entreaty for us to the Trinity. (Apolytikion, Mode 1)
Dear brothers and sisters,
We will celebrate the feast of the Three Hierarchs  this coming weekend.
Friday, 29th, 6 pm – Great Vespers
Saturday, 30th, 8 am – Orthros. 9 am – Divine Liturgy
Let us who love their divinely wise words gather to honor them in hymns!
You can learn more about this feast here
With love,
Fr. Jeffrey